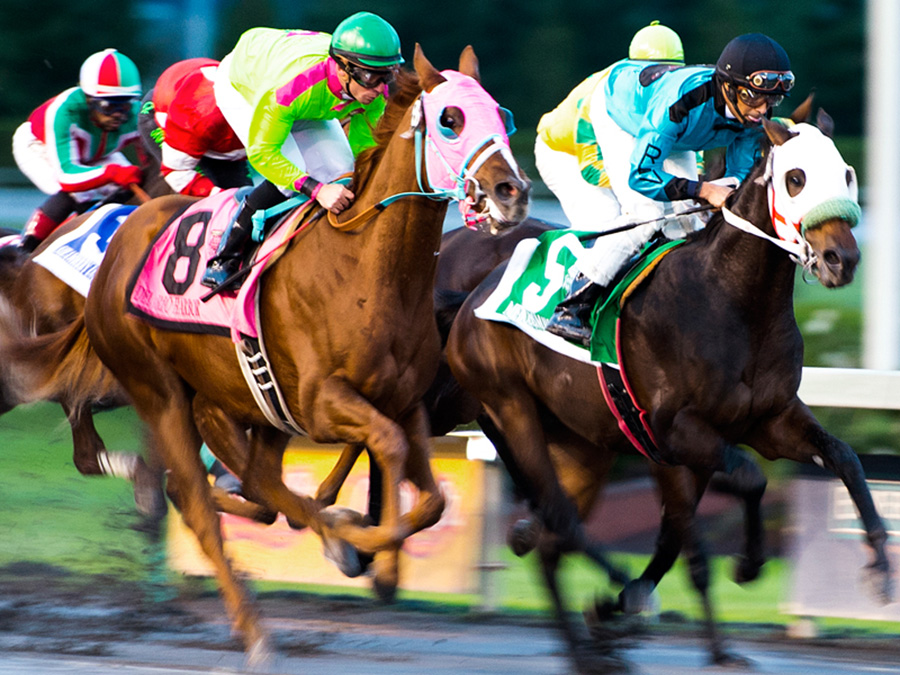 Horses have careers - some short, some long, some successful and some ugly.
Many thoroughbreds born ("foaled") in a given year do not even make it to the racing scene at all. Of the thousands of horses born each year, only a tiny fraction wind up training for races at the track.
Not every horse is a champion.
But since Race Secretaries seek to make every race a balanced one, clearly races need to be placed into a graded structure, so that champions will be pitted against other champs; the really hapless will get to race with horses at the same level; .and lots of races will be set up for all the horses in between.
In addition, horses new to the scene are unproven, so there is a special category for them. If they show ability, they will move up quickly through the ranks. That is how the system works.
Obviously, when a racing fan looks over a race card, the grade of the race will be very important for evaluating the qualities of the individual race entrants.
Though the attention and the purse money rises for owners as their horses rise to "stakes" (championship) levels, the track tries to plan every race so that it is close. And a well-placed $2 bet in a low-grade race can win money that spends equally well as profits on the Kentucky Derby. In fact, "bargain bets" are often easier to find in the lower grade races, where the range of competitiveness may not be as narrow as it is at the very high levels.
The debut races are called "Maiden Races." The middle group are "claiming" and "allowance" races, and the top level is "stakes" races.
The dividing lines are sometimes a bit blurred with some allowance races coming very close to the stakes level, for example. Each is covered in turn.
A "maiden" horse is not a girl. It is a horse that has not yet won a race. Maiden races are designed to find out what new horses can do. Some succeed and go on to higher grades of race. Others, well, they stay "maidens" for a while and then, if they just can't seem to win, they drop out of competition.
Maiden races come in two types: a "claiming race," in which the horse is essentially up for sale, and a "special weight" race, where the horses are not available for purchase. About 30,000 thoroughbred colts and fillies are foaled each year. When they come of age, they can enter competition, but the great majority do not demonstrate much promise for it. If the horse's connections feel the horse is not a potential winner, they may enter him (or her) in a maiden claiming race, where some other owner may "claim" the horse and pay the fee set by race conditions. The price to be paid for claiming a horse out of a Maiden claiming race will range from about half the price of a well-equipped new car up to the price of a small apartment. Obviously, buyers do not appear unless the horse displays some quality that the claimer feels can be successfully developed. Maiden claiming races are the lowest grade of thoroughbred racing. Handicapping is sometimes tricky, as the horse may not have much in the way of performance history, and, as it has never actually won a race, whatever history it does have is not going to be glorious.
If a newcomer shows the owner and trainer that he (or she) has unusual potential, the horse may skip the maiden claiming races and move directly into a grade that is one notch higher. Horses entered in a special weight race can not be claimed by someone else. If that competition proves too steep, the horse may drops back down to the lowest category.
A horse "breaks his maiden" or "graduates" out of the maiden race category by winning one race. When that happens, he will be entered into a higher level of competition. This will be regular claiming races (not maiden claiming races) or allowance races (where claiming does not occur).
Claiming races function just like the maiden claiming races, but at the higher level of competition. In a claiming race, the horse may be purchased out of the race by another person for the price stated in the race conditions. (Obviously, an owner will not enter a horse in a claiming race unless he would be pleased to sell the horse.)
At this level, every horse has won at least one race. In setting the race conditions, the Racing Secretary tries to put together a group of horses at more or less the same level. Some of them will be coming up from maiden, and others may have been around for a while. Still others may be on their way down from higher levels. The way the body of the race is constructed relates to such things as gender, or single winners only, or horses having won no more than some other number of races (usually 2, 3 or 4). The conditions might say the race is for non-winners of a race since [a certain date]. The objective in any case is to make for a close and exciting race. Many horses never go past this level of competition. They are referred to as "claimers." It may be obvious that the longer a horse stays in the claimer category, the less likely it is that it will ever be claimed.
Racing secretaries often concoct race conditions that combine the features of a claiming race and an allowance race, especially if allowance horses are in short supply. Tracks like to set up a lot of races for allowance horses, as this permits the better horses to move up quickly, opening up room at the bottom for restocking the "talent pool" with new horses. Thus the hybrid "optional claiming race" came into existence, to permit high claimers to compete against the lower-level allowance horses. In such a race, a given horse will be run either under the allowance conditions or under claiming conditions, in which the claiming price is usually fairly high.
A promising horse that wins a maiden special weight race will almost certainly jump right from maiden to allowance, skipping claiming altogether. Otherwise, this is the territory for those who move up out of the claimer pool. Allowance races come in three different levels. To move up, a horse needs to win a race. If a horse has won one race at maiden special weight, and shows great promise, he (or she) would go through the three allowance levels with three wins, and then head for the top of the hierarchy, the stakes and handicap races. Only rarely does a horse progress so quickly.
Most horses move up or down a little in the hierarchy to discover the correct level of competition. Like the minor leagues in baseball, the youngsters rise and fall according to their talent and need for experience, and the older entrants move back down after reaching a peak.
An allowance race may promise a purse sufficient to attract good talent. A "money allowance" race is just a notch below a stakes race. If a stakes horse has had a long layoff or a period of recovery from an injury, he may be entered in a money allowance race as part of a comeback. Similarly, older stakes horses tend to move down into money allowance races after hitting a peak in the big league.
Handicap and stakes races are the major leagues of horse racing. Casual fans often pay attention only to this top category and are ignorant about the lower levels. This is where the big money is for all the professionals involved: the horse owners, trainers, jockeys, and the tracks themselves. An experienced and careful bettor can usually make money in the handicap and stakes categories, as the pari-mutuel odds may be influenced by heavy action from a less-informed public.
In this top category of thoroughbred racing, the Racing Secretary can create any one of six different kinds of races. The lowest is "overnight stakes," written three days in advance of post time. They are really more like allowance races, but with a little extra fanfare and purse. "Restricted stakes" are reserved for a specific sort of horse, typically one born in a specific state. Belmont Park, for example, might card a "Restricted Stakes" race only for horses born in New York.
The top four races are called grades 1, 2, 3 and "non-graded" (which means, essentially grade 4). Grade 1 is the most important. It includes stakes like the Kentucky Derby and the Belmont Stakes. The purses are the highest, and the contenders are all championship-quality horses. Grades 2, 3 and "non-graded" are still high caliber horse races. The fields tend to be a little larger, as there are more good candidates for the lower grades of stakes races. The purses tend to be smaller as the grades go lower. But it is generally accepted that any stakes race attracts quality horses, that is to say, horses with the most "class."
Length of a Horse Race
Races can also be short, medium or long.
Short races are called sprints for obvious reasons, and start from the far side of the track. A sprint only has one "turn" (referring to the rounded end of the oval). It is called "the far turn" and is to the left (as viewed from the grandstand). Any race of less than a mile is a sprint.
Races of more than a mile are called "route races." Mile long races start in front of the grandstand, or, if they are longer still, from the "chute" on the front portion of the track, to the left of the spectators. There are two turns in a race of a mile or more. The near turn, to the right of the spectators, is also called the "clubhouse turn" because it is in front of the clubhouse, at least at the older tracks.