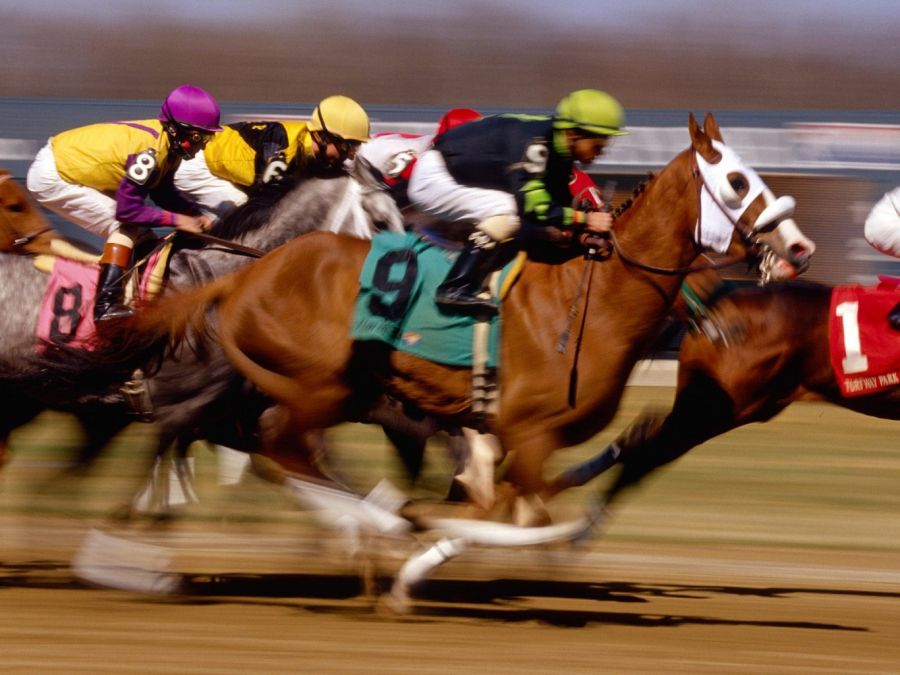 Throughout U.S. history, horse racing has brought us numerous champions. Some live on in infamy because they have beat the odds and won multiple important races with extraordinary lengths, times, and purses. Many have impressive lineage. There is something about these great Thoroughbreds that make our spirits soar as we watch their victorious and gallant race to the finish line, only on video for some us, but still thrilling, with more excitement than most of us see in a life-time.
Certain horses have earned the title of "Greats". You know who they are; their names are legendary, as are their records. Let's look at some of these beloved racehorses:
Man O' War (1917-1947)
Upon his death, Man O' War was declared the greatest Thoroughbred of the first half of the 20th Century. Racing for only two years beginning in 1919, Man O' War is thought to have rescued American horseracing after winning 3 Stakes races in just 17 days. He won 20 out of 21 horse races, one of which was won by an astounding 100 lengths! He retired a national hero just 16 months later, having earned a total of 5 U.S. records and earning a record-breaking (for the time) $249, 465. As a sire, he produced over 64 Stakes winners and 200 champions - including War Admiral. Seabiscuit was his grandson.
Seabiscuit (1933-1947)
The grandson of Man O' War did not initially show a lot of promise as a racehorse. Yet, in 1937, Seabiscuit won 11 of the 15 races he entered. He is probably most famous for the 1938 Pimlico Special in what was dubbed the "Match of the Century". It was a race against legendary War Admiral, which Seabiscuit won, raising the downtrodden spirits of mankind during the Great Depression. Seabiscuit finished his career in 1940 with earnings of $437,730 and winning 33 of his 89 races. Seabiscuit's story later inspired several books and films, including the 2003 Academy Award film nominee, "Seabiscuit".
Citation (1945-1970)
As a two year old, Citation earned the nomenclature "Champion Two Year Old', having been victorious in 8 out of 9 races. This 1948 US Triple Crown winner became the first U.S. horse to win a $1,000,000 purse. He went on to becoming the first Thoroughbred to have won 16 major Stakes in a row. By the end of his three-year-old season, Citation had won 27 victories in 29 races with earnings of $865,150. He was the 1950 "Horse of the Year". To top off his career, he became a 1959 National Museum of Racing and Hall of Fame inductee.
Secretariat (1970-1989)
A beautiful horse with a big heart (literally, his heart was enormous, weighing an extraordinary 22 lbs., more than twice the size of an average horse's heart) was considered initially to be "too pretty" to be an important racehorse. However, in his first racing season in 1972, Secretariat proved the "Doubting Thomas'" wrong, winning 8 consecutive victories, after which he became the first two year old to be crowned "Horse of the Year". In 1973, Secretariat won the US Triple Crown, taking the Belmont Stakes by a spectacular show of 31 lengths, setting a world record time that still is in standing today, along with the record time he'd set at the Kentucky Derby. Secretariat earned a record (at the time) $1,316,808 and was the sire to numerous outstanding racehorses. At 19, he was laid to rest, having suffered from an agonizing foot disease.
Smarty Jones (2001- )
A racing great whose roots trace back to Secretariat and Man O' War. He ran victorious in the 2004 Kentucky Derby and Preakness Stakes, creating a national hotplate of excitement not seen since Secretariat squared off and won the Triple Crown. Smarty Jones' double wins earned him a cover on Sport Illustrated, and he was thought to be the next Triple Crown winner. However, Smarty Jones came in at second place after a stunning upset, when Birdstone, with a 36-1 long shot ran away with the Crown. Smarty retired because of chronic bruising in his ankle bones.
Barbaro (2003-2007)
Barbaro was undefeated when he entered the 2006 Kentucky Derby, and his 6 ½ length victory margin marked the longest in almost 50 years. After his impressive win many believed that he would be the next Triple Crown winner. However, at the Preakness Stakes two weeks later, Barbaro fractured 3 bones of his right back leg, bringing a devastating end to his racing career. After multiple surgeries, Barbaro's right leg healed, but the horse later developed a painful hoof disease that infected both of his front legs. His untimely 2007 death devastated fans around the nation.
Affirmed (1975-2001)
As of 2011, Affirmed is the most recent US Triple Crown winner. He nabbed the Triple Crown in 1978, the same year that he beat out Seattle Slew, another Triple Crown winner, at the Marlboro Cup Invitational Handicap. It was the first time that Triple Crown victors had ever competed against each other. He was the leading Stakes earner of 1978, winning eight consecutive races, (including the Triple Crown). A champion in each of his racing seasons, Affirmed was "Horse of the Year" in 1978 and 1979. He has a record of 22 wins out of 29 starts, and is the first Thoroughbred in the United States to bring in more than two million dollars during his career.
War Admiral (1934-1959)
Son of the legendary Man O' War, War Admiral claimed both the 4th Triple Crown race and the "Horse of the Year" award in 1937. He was inducted into the National Museum of Racing and Hall of Fame in 1958. Winning the Kentucky Derby by 8 lengths and Preakness by a mere head, his greatest hour was at Belmont. Despite, stumbling near the gate, tearing away a piece of a front hoof, he won the Belmont by 3 strong lengths and tied a Belmont record.
At four years old, among other races, he also won the Jockey Club Gold Cup, a two-mile race, but lost the Pimlico Special to Seabiscuit. War Admiral is buried on Faraway Farm alongside Man O' War. War Admiral took first place in 21 out of his 26 races.
John Henry (1975-2007)
In the 1980's John Henry was voted "Racehorse of the Decade". In 1981, as a 6 year old, he won the Jockey Club Gold Cup at Belmont, securing his first "Horse of the Year" award. In 1983, John Henry became the first racehorse to earn more than $4 million. He claimed victory 39 times out of 83 races. He was the first and only horse to clinch first place for both the Arlington Million and Santa Anita Handicap. With his last race in 1984 at the Ballantine Scotch Classic, he claimed the 39th victory of his career and his second "Horse of the Year" award. The world's wealthiest Thoroughbred, John Henry retired in 1985.
Phar Lap (1927-1932)
New Zealand's Phar Lap was a national race horse icon in Australia, the primary racing venue of his short career. The gigantic horse of 17.1 hands high was victorious in 37 out of 51 starts. And before his mysterious 1932 death, Phar Lap had set 8 track records. He died suddenly after becoming ill. Many speculated that gangsters, fearing that Phar Lap would spark big losses for illegal bookies, had greedily and heartlessly poisoned the horse. Thanks to modern forensic science, investigations performed more than 70 years later proved that Phar Lap had ingested a substantial quantity of arsenic shortly before dying, although the source of the arsenic was never proven.